Been dealing with a fiery trial here lately -- an injury, but can't forget you regardless of the pain. You've had some trials and opposition too I'm sure. Yet, you keep pressing on. Thanks for loving and serving the Lord in the way you do. Got a few minutes free here, so I just wanted to say... keep on going with Jesus as Lord, believer. It all matters. People matter.
May God bless you in in a big way
-- in all that you are doing with and for Him (been thinking/interceding for you Harvest Online Missionaries a lot). God is so faithful, SO true, and completely-loyal. You are not alone.. even on those days when you feel all alone. God is mindful--He sees all you've been going through and how you've served Him. The Bible says...
God patiently directs each of us as we trust Him daily.. as we listen to His Word. What a blessing to hear God's voice and serve Him -- it's a blessing because of Christ and His love for us and those in this world. You know how God can use any of us to help others enter into His Kingdom, as well as go the distance with.. walkin' tight with Jesus our King.
I just pray that you will be encouraged today to keep seeking Him, to keep going as you look to the Lord for everything you need, to keep praying earnestly as you with expectation trust that other's needs will be met as well.
"Whoever turns a sinner from the error of their way will save them from death and cover over a multitude of sins."

James 5:20 #Fish4Souls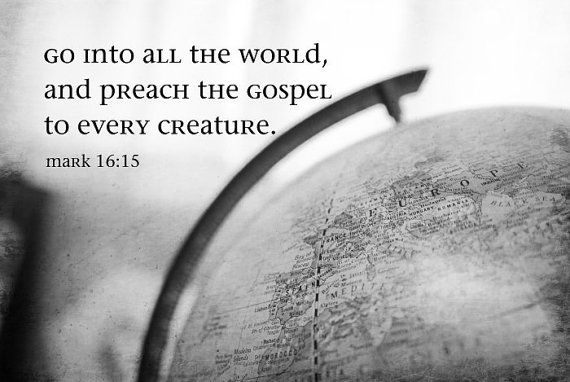 "Then the wise will shine like the brightness of the heavens, and those who lead many to righteousness, like the stars forever and ever."

Daniel 12:3
Worshiping, disciple-making and witnessing are all God's plan for you and me this week and for our entire future. Yup, biblically.
What great ideas to be involved with! Upwards, inwards, and outwards.. ministry. And what other ministry directions do I need really? None. Not interested in any other ministry directions.
And these three are still so important cuz people are--and important as they've always been, or perhaps more so since there are more people to reach. #Fish4Peeps
Let's keep talking to God alone first as well as in the middle of our routines.. about our part in helping to bring closure on Christ's Great Commission.
Since September 2017, you've missionaries have been used in helping Global Media Outreach reach just over 100 million people with the Gospel! I love that!

I thank God for you! Your ministry has reached more than 2 million people in Iraq, a country that is very hostile to Christianity. You've also been involved in GMO sharing Jesus with more than 200,000 Somalians, whose country is ranked third on Open Doors' World Watch List for most persecuted countries. In fact, we've even reached into North Korea 22 times in the last year.

No country, or person in any country is out of reach of God's love. No Land is off limits from our GMO model of online evangelism and discipleship! None!
People inquire and you clearly give them the Good News! Yay!! They get to choose and we leave the results with the Lord..but follow up too. I love what you've accomplished and how you write people..daily.. how you respond and edify them, how you listen, how you get tactfully personal at times and lift them up in prayer! Right on the spot, and they can sense the Love of God in their direction!!! It's important.
Really want to encourage you again--I want to. Let's keep our focus primarily on Christ, and let's stay in prayer for what God has for us. Rest reassured of His love for you, rest assured in His grace, in His purpose, and in His righteousness. He will patiently direct us / you.. day-by-day, step-by-step in doing His will. Can't forget you for a sec. When we pray and obey, others will indeed be impacted for his glory. It's happened, is happening, and I trust will happen some more. ~ KurtwVs IG Facebook.com/shareJesus