You can grow spiritually if you really want to! Did you decide, turn and pray to receive Christ? Need some GOOD SPIRITUAL HYGIENE now, or perhaps in some other area? When Jesus is Lord, He will help us in all kinds of areas. He wants you to grow-well, to know-well (His word), and to make His Word well-known!
Have you been water-baptized, believer? Now's a good time. Read your Bible and pray daily. Seek out fellowship -- be a real friend in a healthy local church with some on-fire growing Christians. Go share what God has done in your life. Relationship building with the Lord is imperative. God wants you growing and well spiritually. Are you born of the Spirit -- that's a must. Are your closest friends spiritually well and on-fire for Jesus Christ? What are your personal quiet time devotions like? Godly character and ongoing disciplines are important. True repentance means to change. It should be emphasized here that the fullness of the Holy Spirit is evidenced by the attributes of Galatians 5:22-23, not the manifestation of spiritual gifts in I Corinthians 12.
It's wonderful to hear some really Good News for a change.. in this
Fake News
and
Horrible News
kind of sin-cursed fallen world huh! Sure it is. I love the Lord and His Gospel!
Paul makes this fact very clear in 1 Corinthians 12-14 and Galatians 5. Let's state it simply: When you are led by the Holy Spirit, you will be characterized by nine attributes of the "fruit of the Spirit."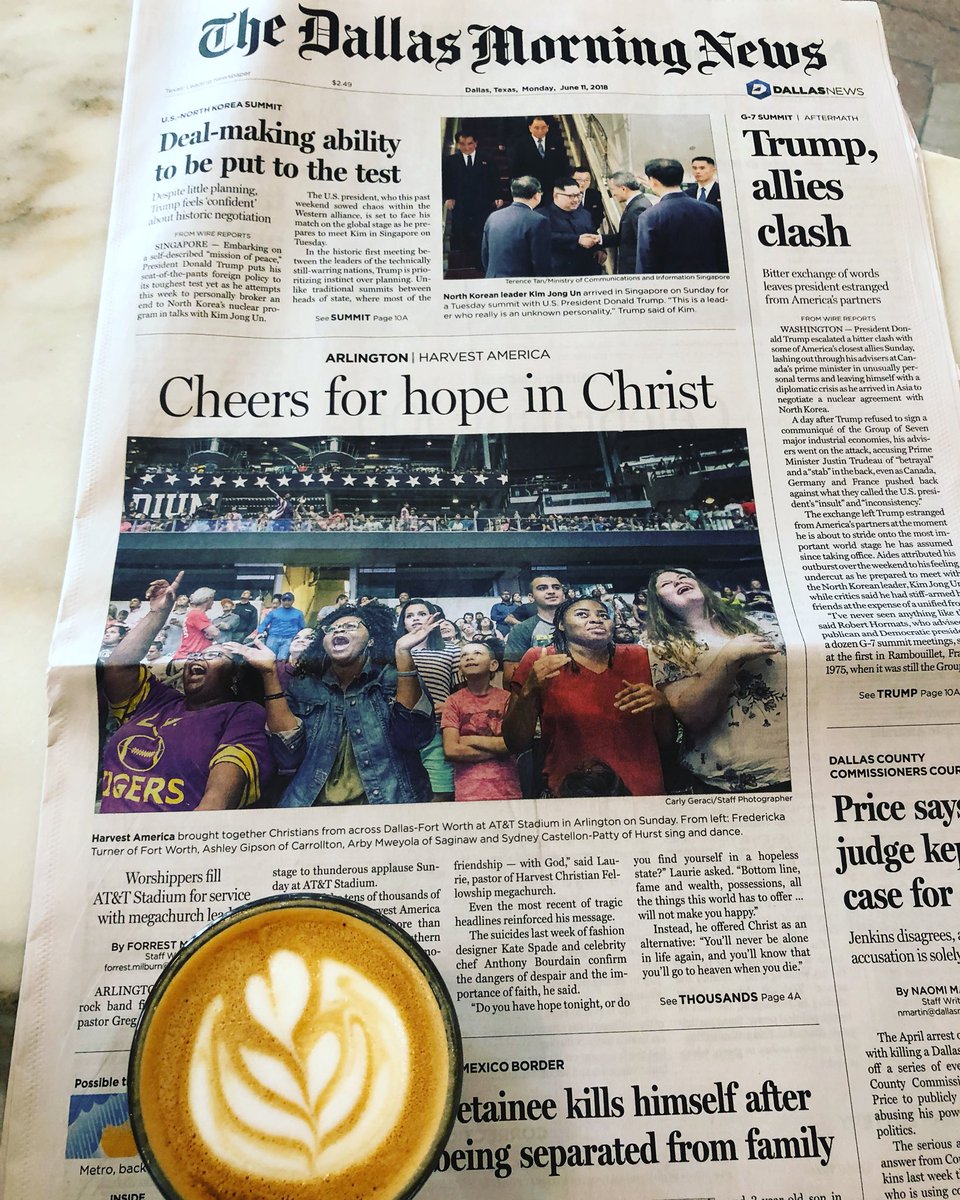 "When a body
(like a local church)
gets so weak that it cannot purge the poisons out of it's own system, that body won't be well—it will soon die." ~ Chuck Smith
A Great commitment to Christ, to His Essentials, to the Great Commandment and the Great Commission.. will grow a Great Church! Yup, a WELL church. We want to see every believer grow spiritually, and every local church as well.. sure as well as grow numerically? No more small-minded "us four and no more" kinda attitude.
"A church that is soundly rooted cannot be destroyed, but nothing can save a church whose root is dried up. No stimulation, no advertising campaigns, no gifts of money, and no beautiful edifice can bring back life to the rootless tree."
~
A.W. Tozer



Regular and systematic Bible reading / study
It's so important! David in Psalm
119:9 said, "Wherewithal shall a young man cleanse his way? by taking heed thereto according to thy word." He goes on to say in verse 11, "Thy word have I hid in mine heart, that I might not sin against thee." The New Testament is full of references to the power of God through the Word of God. Jesus declared that the Word sanctifies (sets us apart) in John 17:17-19. Paul reinforces the cleansing power of the Word of God in Ephesians 5:26. We are told in II Timothy 2:15, "Study to shew thyself approved unto God, a workman that needeth not to be ashamed, rightly dividing the word of truth." There's no question about it; the study of God Word is vital to good spiritual health.



Consistent, candid daily prayer -- earnest and fervent
The Apostle Paul said in I Thessalonians 5:17, "Pray without ceasing." He admonished the Colossians when he wrote in 4:2, "Continue in prayer, and watch in the same with thanksgiving." Daily conversational / friendship kinda prayer throughout the day with God is an important component to good spiritual health. There is no more important conversation you will have each day.



Fellowship with other growing believers.. who love the word
Fellowship in connection with a Bible-teaching local church with a saved, spiritual pastor instead of a dead or carnal hireling. A WELL church is a: Worshiping church, Evangelize church, Learning church, and Loving church fellowship. Believers need the support of other Believers plugged into a healthy fellowship. Paul wrote in Colossians 3:16, "Let the word of Christ dwell in you richly in all wisdom; teaching and admonishing one another in psalms and hymns and spiritual songs, singing with grace in your hearts to the Lord." He told the Hebrews in 10:25, "Not forsaking the assembling of ourselves together, as the manner of some is; but exhorting one another: and so much the more, as ye see the day approaching." Good spiritual health requires that Believers regularly meet with other Believers. It's the support structure that contributes to our spiritual well being.
Tactfully sharing your faith in Jesus as a natural outgrowth of all this



Here's the exercise component to good spiritual health - sharing what you know about Christ. Paul wrote in 2 Corinthians 5:19-20, "To wit, that God was in Christ, reconciling the world unto himself, not imputing their trespasses unto them; and hath committed unto us the word of reconciliation. Now then we are ambassadors for Christ, as though God did beseech you by us: we pray you in Christ's stead, be ye reconciled to God."
There it is...our job is to serve Jesus Christ as ambassadors. When you've been reading your Bible, praying and spending time with other Believers, sharing just comes naturally.
Ministry upward, inward, outward -- your personal ministry is three-fold in purpose:
A church Pastor, or a Christian father in a home, both of them alike must prioritize their ministries -- sure in that particular house of worship where they are. Every believer needs to prioritize. Listen, every well-church and every well-family, only has three priority ministries when ya think about it!
Consider how the early church was
W-E- L-L
: (Muse over the four ingredients that go into bakin' this cake if ya will.. real well. You know, that make for successful Christian living -- I mean for a believer or a believing church). Here is my challenge for you: Choose to be well as an audio / visual witness like the believers in the early church were!). Find a...
1).
W
- WORSHIPPING CHURCH - Prayer
2).
E
- EVANGELIZING CHURCH - Witnessing
(as the natural
out-growth, yes, every member)
3).
L
- LEARNING CHURCH - Bible
4).
L
- LOVING CHURCH - Fellowship
Hey, it's not really about stiff religious rules or cold liturgical formulas so much—It's about simply walking with your best Friend. It's about warm-hearted obedient fellowship with Jesus Christ until you are red hot spiritually. It's living in victory by the Spirit. It's about maintaining that walk that others watch, and about your proper (ongoing) sowing to the Spirit to be built up, instead of torn down and defeated.
Listen, if it's not one of these four disciplines, I'm not interested in doing it
...no matter how exotic it is. Many so called churches and televangelists like all kinds of exotic extras they add in there. Not me, and you don't need them either. Let's stick with the basics of the faith.
I tell all baby Christians I meet these four ingredients to grow up fast. Personally, when my love starts to lag, or I start to stumble spiritually... you know.. walking in the flesh (sadly been there before, done that). Am I letting Jesus take the steering-wheel of my life? I just check things out with God. I do a check up from the neck up and with my relationship with Jesus -- my sowing habits in these four areas (Kurt, to which of these four am I not sowing to.. am I neglecting).
You remember how Dawson Trotman used a mariner's wheel to illustrate the two horizontal and the two vertical ministries for spiritual health. In a local church or family, we are not to emphasize one aspect to the exclusion of the others. Grow like a plant with roots goin' deep in the soil of God's word. No, no. Today, do you know Christ well? This is where you start.. tight with Him. Jesus is your first-love, your best Friend. God tell others about Him!
Don't forget who the three enemies of every believer are. Don't give in.

1.) The old fleshly nature–that sinful nature inside that tells ya to do what it tells ya to do. Believer, it's in opposition to the work of the Holy Spirit inside of you by His anointing.

2.) This world system–it's all about this life here only.. all that opposes the Lord and the work of Christ.

3.) The creepy devil, including all the other weird fallen angel minions (a third fell with him).