Regardless of who you will eventually vote for if you do go vote all (so many are so discouraged with all the broken promises on both sides, and with life), what does this reveal? This clearly shows me that there is a huge thirsty out there for real change and for hope ..for change.. personal, national, international. Yes, for lasting repair.

We can't totally ignore this need for change. Can't seem to ditch this inner thirst. "No matter how much we try to run away from this thirst for the answer to life, for the meaning of life, the intensity only gets stronger and stronger. We cannot escape." ~ Ravi Zacharias
If you come to politics, to the GOP RNC, to the DNC and it's so called progressive movement, or to anything other than to Christ ..to become satisfied, you'll only go away thirsting again. What can fill up that dry void inside, that longing, that loneliness, that nagging emptiness? Not sayin' don't vote or do your part here. Are you thirsty for living water so you won't thirst again?
Have you been in a dry hot desert situation too long?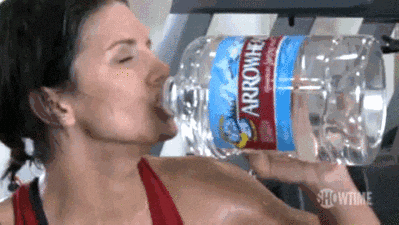 No rain for too long.. yet you've long for a downpour, some refreshing rain, a spring of sorts, a pool. Not tryin' to be partisan here at all cuz I always try to keep that stuff away from this site. But you, we..
can see change today
. It can positively affect your personal experience for both time and eternity. We know that our politics are not the ultimate solution for us humans.
People around the world are radically thirsty for real leadership and inner quenching--Christ's. Jesus is the ultimate Answer for the world today no matter what the question or need is.
pics von giphy.com
Come you who are weary and thirsty.. to the One who deeply satisfies.
Today, I've been musin' over
what God has to say to thirsty people
who long to see good change instead of only hear about it. God's Word hits the spot. My own opinions are worth about a dime perhaps.
"Come, all you who are thirsty, come to the waters; and you who have no money, come, buy and eat! Come, buy wine and milk without money and without cost." Isaiah 55:1
"What the wicked dread will overtake them; what the righteous desire will be granted." Proverbs 10:24
"Blessed are those who hunger and thirst for righteousness, for they shall be satisfied." Matthew 5:6
When David was in the Desert of Judah. "You, God, are my God, earnestly I seek you; I thirst for you, my whole being longs for you, in a dry and parched land where there is no water." Psalm 63:1
"..whoever drinks the water I give them will never thirst. Indeed, the water I give them will become in them a spring of water welling up to eternal life." John 4:14
"But those who drink the water I give will never be thirsty again. It becomes a fresh, bubbling spring within them, giving them eternal life." nlt
"I will refresh the weary and satisfy the faint." Jeremiah 31:25
facebook.com/shareJesus